S Koreans travel to North Korea to reunite with war-divided kin
Hundreds of South Koreans headed to North Korea on Tuesday for temporary reunions with family members most haven't had word of since the turmoil of the Korean War more than 60 years ago.
The reunions, the first since February of last year, are a bitter reminder that the Korean Peninsula is still in a technical state of war because the 1950-53 fighting ended with an armistice, not a peace treaty. The Koreas bar ordinary citizens from visiting relatives living on the other side of the border and even from exchanging letters, phone calls and emails without government permission. About 390 South Koreans, some in wheelchairs, arrived Tuesday morning at a South Korean immigration office on the world's most heavily fortified border.
[related-post]
"Have a nice trip," shouted South Korean Red Cross officials wearing yellow vests as the elderly men and women entered the immigration office in the border town of Goseong. South Korean participants said they were taking long johns, medicine, parkas, calligraphy works and cash with them to give to their family members in the North as presents.
Best of Express Premium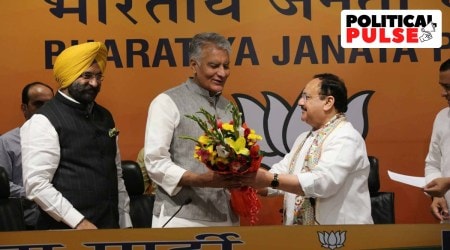 They will meet with their children, siblings, spouses and other relatives for three days. About 140 North Koreans were expected to show up, according to Seoul's Unification Ministry.
In a second round, from Saturday until Monday, about 250 South Koreans are to visit the mountain resort to reunite with about 190 North Korean relatives, the Unification Ministry said.
The rivals in August agreed to resume family reunions during talks to end a standoff caused when land mine blasts blamed on Pyongyang maimed two South Korean soldiers. They have a history of failing to follow through with cooperation projects, but these reunions are happening because North Korea didn't go ahead with threats to conduct a satellite launch earlier this month. The launch would have likely canceled the reunions because Seoul and Washington see such firings as cover for banned tests of long-range missile technology.
Kim Yong-ok, a South Korean participant, said Monday she would attend the reunion because her brother in the North was looking for her. She hadn't known he was still alive. "It was a real surprise," she said. "After I heard from him, my heart became full of emotion."
The reunions are extremely emotional because most people who apply for them are in their 70s or older and are desperate to see their loved ones before they die. Nearly half of the 130,410 South Koreans who have applied to attend a reunion have died. Past reunions saw the elderly weeping and hugging each other and asking for details about their lives and other loved ones before being separated again.
Lee Taek-gu, 89, who is to reunite with his younger sister in North Korea on Saturday, is already sad about the looming parting. "That's going to be a real burden mentally. It would be better if we could communicate through letters after the meeting, but since we cannot, I'll be rather sad (after the reunion)," he said in an interview last week.
South Korea uses a computerized lottery system to pick participants while North Korea reportedly chooses based on loyalty to its authoritarian leadership.
Seoul has long called for drastically increasing the number of people taking part in reunions and holding them more regularly. North Korea, which often uses reunions as a bargaining chip in negotiations with South Korea, is worried about more reunions leading to the country being influenced by the more affluent South and undermining its grip on power.
Family reunions were part of a slew of now-stalled rapprochement projects the two Koreas agreed upon following first-ever summit talks between their leaders in 2000. About 18,800 Koreans have since participated in 19 face-to-face reunions and about 3,750 others have been reunited by video.
Denial of responsibility!
News Smashers is an automatic aggregator of the all world's media. In each content, the hyperlink to the primary source is specified. All trademarks belong to their rightful owners, all materials to their authors. If you are the owner of the content and do not want us to publish your materials, please contact us by email –
[email protected]
. The content will be deleted within 24 hours.