Ready to respond to any kind of war the US imperialists want: N Korea
North Korean leader Kim Jong Un declared Saturday that his country was ready to stand up to any threat posed by the United States as he spoke at a lavish military parade to mark the 70th anniversary of the North's ruling party and trumpet his third-generation leadership.
The parade, which featured thousands of goose-stepping soldiers and military hardware including missiles and drones mounted on trucks, kicked off what is expected to be one of the North's biggest celebrations ever — an attention-getting event that is the government's way of showing the world and its own people that the Kim dynasty is firmly in control and its military a power to be reckoned with.
Kim, clad in black, walked down a red carpet and saluted his honor guard. He then walked up to a podium and waved to the troops taking part in the parade in Pyongyang's Kim Il Sung Square. Visiting Chinese official Liu Yunshan stood clapping to Kim's left, with senior North Korean officials on Kim's right. Kim smiled as he spoke with Liu through an interpreter.
Kim then delivered a speech in which he said North Korea would stand up to the U.S., issuing the type of fiery rhetoric that is commonly used by the North.
Best of Express Premium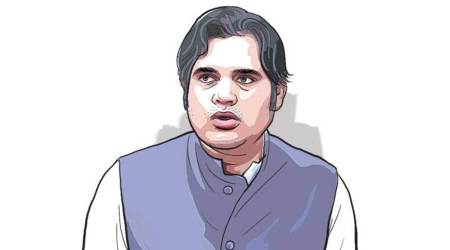 "Our revolutionary force is ready to respond to any kind of war the American imperialists want," said Kim, whose speech was interrupted by applause several times.
"Through the line of Songun (military-first) politics, our Korean People's Army has become the strongest revolutionary force and our country has become an impenetrable fortress and a global military power," he said.
After his speech, thousands of soldiers held up colored cards to spell out "Songun politics" and "Defending our homeland."
In a military parade that followed, tanks, armored vehicles, rocket launchers and a variety of missiles mounted on trucks rolled by, while military planes flew in formation above the square, forming the symbol of the Workers' Party of Korea — a hammer, brush and sickle. Another group of planes formed the number 70 in the sky.
An expert at the Korea Institute for Defense Analysis, a security think tank in Seoul, Jin Moo Kim, said North Korea revealed a new 300-millimeter rocket launcher and drones. It also displayed a KN-08 ballistic missile, with an estimated range of 10,000 kilometers (6,200 miles) that the country had previously shown off in 2012. Kim said the presence of Liu might have prevented the North from revealing its most provocative weapons.
Thousands of civilian marchers followed, holding colored cards to spell out Kim's name, and he responded by waving to the crowd and holding the hand of Liu, the visiting Chinese official.
The guest list was less impressive.
While no world leaders attended — North Korean ally China sent Liu, a senior Communist Party official, not its head of state, or even vice premier — the normally isolated and quiet North Korean capital has been flooded by tourists, international media and delegations ranging from ethnic Koreans living abroad to obscure Russian and Mongolian groups dedicated to studying North Korea's political ideas.
As the clock struck midnight Friday, Kim marked the anniversary by paying respect to both his late father and grandfather at the Kumsusan Palace of the Sun in Pyongyang, according to the North's official Korean Central News Agency, or KCNA.
Even though North Korean officials did not divulge details of the celebration plans in advance, open-source satellite imagery has been monitoring large-scale troop activities at the Mirim military air base in Pyongyang, which has been rigged with a mock-up of Kim Il Sung Square. Masses of Pyongyang citizens have for weeks been out in public plazas across the city practicing their roles for a torchlight parade in the evening.
For the finale, a stage was set up on a river running through central Pyongyang for a late-night concert featuring North Korea's most popular musical group, the all-female Moranbong Band. Tickets for foreigners hoping to attend the concert were going for 100 euros ($114) a pop.
The spectacle promised to be the most elaborate since Kim assumed power after the death of his father, Kim Jong Il, in late 2011, and the satellite imagery suggests the military parade could be the country's biggest ever.
On Friday, senior state officials led a mass gathering in Pyongyang singing the praises of the party and the leader.
Also on Friday, Kim met with the Chinese delegation led by Liu, the Communist Party's No. 5 leader, and Liu delivered a message by Chinese President Xi Jinping, KCNA said.
China's official Xinhua News Agency reported that Liu told Kim that China was willing to work with North Korea for a quick resumption of six-party nuclear talks. The talks, which aim to end the North's nuclear program and also involve the U.S., South Korea, Russia and Japan, stalled seven years ago.
Some foreign analysts believe the particularly strong emphasis this year on making the anniversary of the party's foundation such a lavish fete is a sign that Kim is trying to build up his own stature along with that of the party relative to the military.
Though Kim's leadership and both institutions are strong, the power balance among various government organs in North Korea is a delicate one and maintaining that balance is a key to keeping Kim's regime solid and unchallenged.
North Korea maintains its "military-first policy," which it says is necessary to counter threats from South Korea and the United States, but officials have recently stressed the role of the party in improving the standard of living for the people, who are increasingly aware of how far they lag behind their affluent cousins south of the Demilitarized Zone and in economic giant China.
In the run-up to this year's anniversary, large-scale construction and development projects have been launched and hailed with great fanfare in the state media.
The projects include new hydropower plants and high-rise apartments, but it is unclear how much of North Korea's limited financial resources have been put into improving the lot of the majority of its citizens who are not fortunate enough to live in the relatively developed and affluent capital.
Denial of responsibility!
News Smashers is an automatic aggregator of the all world's media. In each content, the hyperlink to the primary source is specified. All trademarks belong to their rightful owners, all materials to their authors. If you are the owner of the content and do not want us to publish your materials, please contact us by email –
[email protected]
. The content will be deleted within 24 hours.